Press Release
Bring the family to celebrate autumn at Fairhaven's 6th annual Harvest Fun Day, this Saturday, 10/13/18, on the lawn of Fairhaven High School at the Visitors Center, 141 Main Street. It will be held from 10:00 a.m. to 4:00 p.m.
The biggest Harvest Fun Day so far will feature a varied group of 70 booths by local organizations and businesses with arts & crafts, home décor, children's activities, food, and sweet treats.
Children's activities include a bounce house, face painting and henna designs by Heart Body Arts, craft making, and other games and activities. New Bedford Pottery Works will have inexpensive ceramic pumpkins that children can paint. At other booths kids can decorate cookies, do nail painting and make slime! You can take a photo with a princess, the pirate Abby Black, and meet Buttons the Bear from Carousel Family Fun Center. And children can take a seat in an old-time McCormick Farmall tractor for a photo opportu­nity, courtesy of Ronald Hammond, or climb into Matt McGraw's 1924 Ford Model T Depot Hack.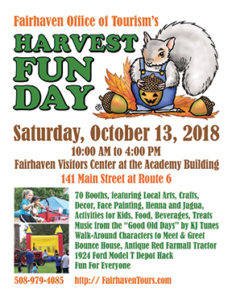 For a couple of hours from late morning into early afternoon a stilt-walking scarecrow will be on hand. There will be a short dance performance by Supreme Perfection Dance Studio. All through the day, classic hits from "the Good Old Days" will be played by Ken Souza, KJ Tunes.
Items for sale include, arts and crafts, home décor made from recycled and upcycled items, homemade soaps, body scrubs, photographs, jewelry, note cards, many unique hand sewn items from dolls to hats and bags, pet treats and accessories, crochet and knit items, wooden toys, pottery, candles and candle stands, hand painted mugs and plates, hand woven items, block prints, fine yarn, fresh farm produce, honey and bee-related products, fresh eggs, and much more.
In front of the high school, the FHS Honor Society will hold a car wash.
When hunger sets in, food choices include caçoila sandwiches and hotdogs from the North Fairhaven Improvement Association booth, as well as chowder and kale soup from the Fairhaven Rotary Club. Emma Jean's will be selling apple cider donuts, fruit pies, whoopie pies, and other treats. The Lions Club is offering apple crisp and hot cider. Silly Bean Coffee Company will offer cold brew coffee, nitro coffee and flavored iced coffee. Homemade cookies of all kinds will be available from Crazy for Cookies. There will also be fudge from Dorothy Cox's, Del's Frozen Lemonade, baked goods from the VFW Auxiliary, bottled water and soda.
Harvest Fun Day is organized and sponsored by the Fairhaven Office of Tourism. Admission is free and there's parking in the Fairhaven High School lots.
Call 508-979-4085 for info or email FairhavenTours@fairhaven-ma.gov.
Harvest Fun Day 2018 Numbered Vendor List
1.  Fairhaven Lions Club, apple crisp w/ice cream, apple cider
2   Rotary Club of Fairhaven, chowder, kale soup
3.  FHS Honor Society, bottled water
4.  Dorothy Cox's Chocolates, Del's Frozen Lemonade, fudge
5.  Roxanne's Garden Center, organic soaps, cement yard pieces, organic extracts & more
6.  Lisa Elliott & Susan Gelotte: woven rag rugs, felted wool hot pads and coasters, & more
7 . One of a Kind Kreations by Kimmy, crocheted dish towel toppers, photo products
8.  Shirley Mendonca, photo notecards & decorated wooden boxes
9.  Emma Jean's, Apple Cider Donuts, pretzels, glazed nuts and breads and pies
10. Silly Bean Coffee, cold brew coffee, nitro coffee, specialty coffee drinks
11. North Fairhaven Improvement Association, Cacoila sandwiches, hotdogs, chips, soda
12. Fort Phoenix VFW Auxiliary #2892: baked goods, and patriotic pencils and rulers 
13. Cedar Ledge Apiary, honey, candles, skin cream, lip balm and other bee related items
14. DLemma Photography, photo mugs, calendars, prints
15. The Crooked Cottage, quilting, wood burning, jewelry, more
16. This and That, puzzle art
17. Widemarsh Farm, fresh produce, herbs, etc.
18. Softwear Daily, handmade fleece items, original art by Ron Fortier
19. One Pine Day, hand lettered rustic décor, authentic railroad spike coat racks, etc.
20. Barbosa Family Farm, fresh fruit, vegetables, herbs, plants
21. Girourd Farm, fresh eggs
22. Bogtrotter Designs, home decor & sculp­tures using locally foraged driftwood & shells
23. 24. Spinning Wheels Mobile Yarn, yarn from New England and beyond
25. Choose Happiness!, "Choose Happiness" Shirts, hats
26. Patriotic Woodworking, wooden flags 
27. Monica Nicole Creations, wood signs, yard games, personalized items 
28. Nightshade Art Shoppe, crystal jewelry, original art, wearable handpainted patches
29. Scrubs and Stuff, all natural flaxseed and rice body warmers, Christmas ornaments 
30. Rustic Vineyard, handmade wine racks and bottle/glass caddies from wood
31. West African Treasures, woven grass baskets
32. Heart Body Arts, face painting, henna and jaguar body art
33. Bracelets by George, braided elastic bracelets
34. Ana's Aprons, hand made aprons for adults and children, "mommy and me" apron sets
35. Our Lady's Haven, cookie decorating
36. Knit N Stitch, knitted hats, cowls, blankets, dish cloths, sewn potholders, blankets++
37. Fairhaven Village Militia, bounce house, popcorn, T-shirts
38. Ron O'Berry Jr., small watercolor prints and notecards featuring the artist's work
39. Diana Taft Designs, fine jewelry made from stones, glass, wood
40. FHS Art Club & Art Honor Society, art 
41. Crazy for Cookies, homemade cookies
42. The Rusty Scissors, unique fabric and vintage style dolls
43. S.W.I.S. Woodworking, scrolled décor, bird­houses, doll furniture, kids furniture, toys+
44. Ooh So Tulle, kids' tutus, headbands, bows, necklaces and other accessories
45. Girl Scout Troop 65427, nail painting
46. Carousel Family Fun Center, Buttons the Bear
47. Hopewell, Inc., children's game, lollipops, coloring sheets, adoptive services
48. Carefree Homes, balloons, fall craft, info
49. Supreme Perfectionists, pour paint ornament craft
50. Mass Attack Roller Derby, games, photo board, coloring station, skating demos
51. New Bedford Pottery Works, handmade ceramics, ceramic pumpkin painting
52. Fairhaven Call Fire Fighters Association, T-Shirts, mugs
53. Seaside DesignStudio, hand crafted home décor and shirts
54. Southern Mass Sea Glass, Resin accessories made with sea glass
55. Simply Sisters Creations, wreaths, wooden ornaments, home decor 
56. Twinkling Tumblers, glitter cup of various sizes
57. K-Pad Woodwork hand turned and carved pens,  lamps, candle holders, etc.
58. Four Paws Up, gourmet dog treats and pet clothing
59. Taylor's Products, hand painted mugs, plates, platters
60. Capture the Moment with Mike Ducatt, photos by Mike Ducatt
61. Marie Machado, jewelry
62. Linda's Candles, candle holders and candles for all occasions
63. Kindred Photography by Angie, photo items (postcards, magnets). hand made paintings+
64. JJ Creations, soy candles, heating pads, weighted blankets 
65. The Copper Snail, hand made home and garden décor from repurposed materials
66. The Copper Snail, Too: slime making, games
67. B & B Originals, hand made walking sticks, hiking staffs, sun hats, tote bags hand bags
68. Back Cellar Designs, repurposed items for home and garden, mirrors, centerpieces
69. Bobby Bruso Scholarship Committee, post­cards and hand-painted items
70. Heath Department, Recycling activity and information
73. Plaids & Tweeds, handbags, mittens, hats, and more made from recycled garments
•  IN ACADEMY HISTORICAL CLASSROOM: Joseph Bates House Museum, historical dress-up for kids, museum info
71. Ron Hammond's Farmall Tractor
72. Matt McGraw's 1924 Ford Model T Depot Hack
74. Portable Rest Rooms
•  WALK-AROUNDS: Scarecrow Stilt Walker from Extraordinary Entertainment LLC, Princess from Ever After Storybook Entertainment, "Abby Black" the pirate from Fort Phoenix Pirates and Privateers, Jack Skellington
•••
Support local journalism, donate to the Neighb News at: https://www.paypal.com/cgi-bin/webscr?cmd=_s-xclick&hosted_button_id=Y6V5ARRYH689G 
Click here to download the entire 10/11/18 issue: 10-11-18 FireDemo